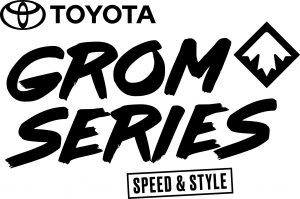 The Toyota Grom Series is a national event series that combines snowboarding basics with fun competition. If you've been snowboarding for less than three years or are new to competitive snowboarding, these events are for you!
WHAT IS A GROM SERIES EVENT?
The Grom Series introduces participants to competitive snowboarding through a skills course designed to challenge freestyle, snowboardcross and alpine skills. Participants spend the morning practicing and developing skills on the course with CSCP trained coaches. In the afternoon, athletes compete in age categories for medals in a fun environment.
WHAT ARE THE DIFFERENT EVENTS INTRODUCED THOUGH GROM SERIES?
Snowboardcross is a timed event over a course with a variety of features, such as turns, berms (or banked areas), jumps, and rollers. Alpine Racing is a series of turns through gates and is scored by time. Freestyle includes jumps and park features like rails and boxes. Features on the course are designed to help riders work on developing the ABC fundamental snowboard skills: Agility, Balance, and Coordination. Grom Series serves as Stage 3 of the Long Term Athlete Development (LTAD) Model and was developed to fill a gap in the availability of grassroots competitive snowboarding events.This program is a great opportunity for resorts, sponsors, officials, coaches and above all the next generation of young athletes, and there are always opportunities for you to be a part of the Grom Series event. For more information contact Manitoba Snowboard.